Paperback Books published by Storyteller Press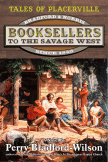 Tales of Placerville:
Booksellers to the Savage West
by Perry Bradford-Wilson
In 1849 writers Jed Bradford and Jack Norris embark on an odyssey through the wild west, headed for Gold Rush California - not to mine for gold, but to mine for stories. With the help of the wonderful & funny folks of Placerville, Jed and Jack become the old west's first detectives, engage in a perilous race against the warlords of the Central Pacific Railroad, brave the deadly snows of the Sierra Nevada, and discover that a ghost town may actually have some resident spooks.. Enter Discount Code #B5H4HGVW at Check Out to get 10% OFF!
- more details -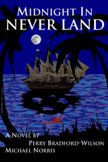 Midnight in Never Land
by Perry Bradford-Wilson and Michael Norris
In 1805 Royal Navy Captain James Matthew Hauke is ordered by Admiral Horatio Nelson to defend the Caribbean English colony of Dominica from French forces. Joined by an Irish Missionary, Father Smye, Hauke attempts the daring rescue of a young girl kidnapped by pirates. Their destination; an island designated on an ancient map only by a dire warning: Never land. The secret denizens of this lost island are very old... and very hungry. Enter Discount Code #B5H4HGVW at Check Out to get 10% OFF!
- more details -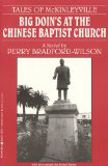 Tales of McKinleyville:
Big Doin's at the Chinese Baptist Church
by Perry Bradford-Wilson
Three interrelated stories share the adventures of Huckleberry Puhzz, all-American, his brother Bubba, and the gang down at the local gas station and convenience store, the Pump 'n' Munch. This humor novel has been compared to the work of Garrison Keillor, Jean Shepherd and Patrick McManus, and will keep you laughing from the first page until the last! An Amazon Exclusive in paperback!
- more details -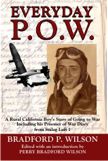 Everyday P.O.W.
by Brad Wilson
Brad Wilson grew up in the sleepy rural country community of Redwood Valley, California, and was used to playing with his dog, diving into the local swimming hole, and helping out on his family's ranch. Then came World War II, and suddenly he was in Europe as a member of the 445th bomb group of the 8th Air Force, flying missions into enemy territory; shot down over Germany and taken as a prisoner of war. Enter Discount Code #B5H4HGVW at Check Out to get 10% OFF!
- more details -
Coming Soon
My cart
view cart
Kindle eBook Editions from Amazon

We are Storyteller Press

Storyteller Press originally launched as the book imprint of Page One Publishers & Bookworks, Inc., a publisher of magazines and graphic novels, including the Eisner Award-nominated monthly Comic Relief Magazine. We have now emerged as an independent publisher with an expanding line of fiction & non-fiction books.

Categories

Visit Our Other Sites